I loved the Runners Tell All Linkup SO much last month, that THIS month, I decided to SPONSOR it… That's right. SO, YOU can join in the fun by linking up below and see the Rafflecopter for a chance to win this month's giveaway!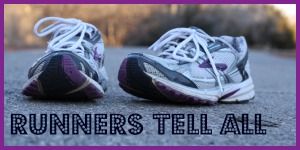 OK, so for the topic this month… My proudest running moment. Though one, guys. How am I supposed to pick just ONE?! If I had to pick a single finish-line moment, I don't think I would be able to. Obviously I was so proud of myself after my first half, the Disney princess in 2013 (I wrote about it 
HERE
). I wore my medal the entire day, through three airports as I trekked across the country to San Francisco. The woman working the delta counter even announced it to everyone boarding my flight from ATL. I didn't ask her to do it, but I was so proud of myself, and loved the attention. I was so proud of myself when I finished the flying pig despite injuring myself mid-race. I wrote about it for the last link-up
HERE
. Doing any kind of distance race takes a lot of mental will-power, fighting through the pain was as much physical as it was mental. I know my next proudest moment will be crossing the finish line of my first FULL marathon in October (God, help me!!!!!!!!). But, One of my coolest race moments was definitely watching my mom cross the finish line of the Princess half this year. She agreed to do it with me (albeit a bit begrudgingly) probably because she felt bad that I wanted to do it so badly and no one else would do it with me.
I knew she could do it, but in the weeks leading up to the race, her knee started to bother her. I know she was nervous about being too slow and being swept at some point along the course (If anything, I was the slow one!) I did a full race/weekend recap
HERE
.
I mean, look at that finish line photo… There I am, just trying to high five my mom and she's totally ignoring me. I think my mom would think twice before letting me convince her to do another race. But I'm so proud of her for sticking with me for 13.1 miles. And crossing that finish line with her was my proudest running moment to date. And then I tried to feed Pinocchio some beer.
There will be not one, but TWO giveaway winners this time. Your chances of winning just doubled. And you could win this awesome tank from Old Navy AND a Nuun hydration packet!!
AND, if you want to share your proudest running moment, link your post below! Runners Tell All Linkup Rules
1. You MUST leave a comment on the person's blog who linked up directly before you. This is not a linkup for the sake of linking up. This is a linkup to build community and spread the love and encouragement to your fellow runners! Don't be lame.
2. Do not share links to unrelated running posts or to your blog's homepage, or we will have to delete your link. (I've done it before too, so I'm not joking.)
3. Please link back to either Beka or Amanda in your post so others can come here and join in! Or grab the button and add it to your post.